Dwelling in Mountains and Deserts

Portfolio One


Photographs by Tom Andrews

Portfolio One was intended to be a limited edition
of ten custom hand-bound books of original prints.
However, only 2 books were ever produced,
and it is extremely doubtful that any more will be made.
Only one of these books is for sale.
The other book will be retained by the artist.
Each book is numbered and signed by the artist
and contains twenty-two original limited edition prints.
Each limited edition print is also numbered and signed by the artist.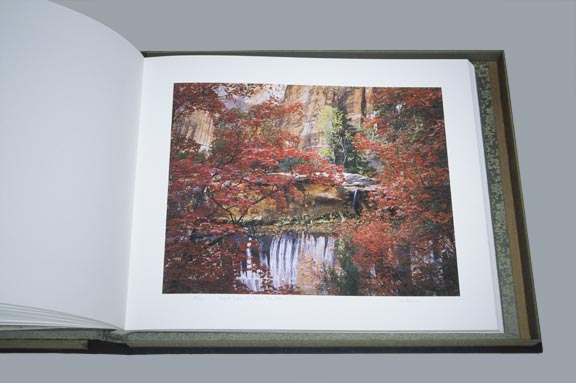 To see additional photographs of the custom book, click here or on the image above.
The photographs in Portfolio One are printed with archival pigment inks on acid-free, 100% cotton paper. These archival photographic prints will be longer lasting than those from any other known color photographic process or materials. Each print measures 10" x 12.5" centered on a 13" x 15.5" page. The book and its accompanying clamshell box (which measures 1.5" x 14.375" x 17.5") are covered with fine Japanese and Korean silk
book cloth. This book was custom bound by Nancy Missbach,Tangerine Book Arts,
Denver, Colorado. Only two books have been produced
and it is very doubtful that the additional 8 books in this edition will ever be printed.
The landscape photographs in Portfolio One range in size from details in the vegetation to large vistas across many miles of terrain. These photographs were created in natural areas in the western United States. This work is homage to wild lands, an important and threatened part of our natural heritage.
Books 1/10 or 2/10 are available from Tom Andrews for $3000 each.
Only one of these two books will ever be sold.
Home
Gallery
Biography
Process and Price